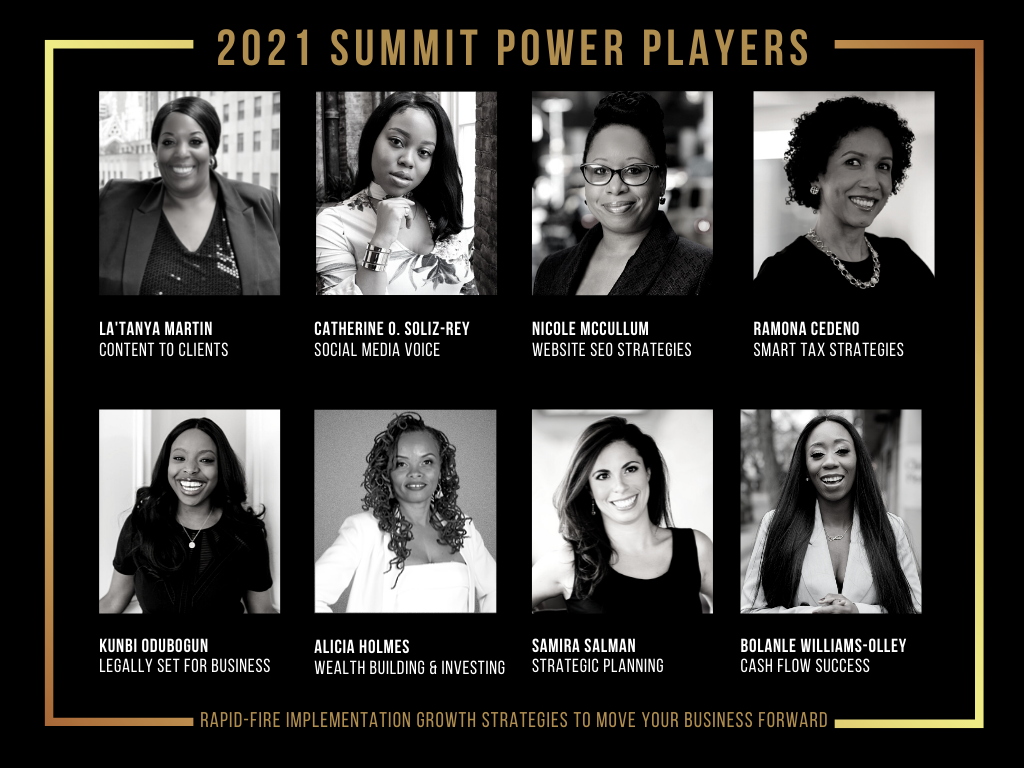 2021 ENTREPRENEUR SUMMIT
C O L L A B O R A T I V E    C O N N E C T I O N S  
A Full-Day Actionable, Engaging and Immersive Experience, Supporting and Elevating Minority BusinessWomen and Entrepreneurs!
…WE Invite You to the MUST ATTEND Business Event of the year!  Highlighting, elevating and celebrating minorty, diverse Entrepreneurs, Small Business Owners and Start-ups in the NYC area. This full-day event (open to men and women) is jam-packed with inspiration, proven strategies, actionable steps, and the tips, resources and information for maximum business growth.
Get ready for DYNAMIC SPEAKING SESSIONS, LIVELY PANEL DISCUSSIONS and INTERACTIVE MASTERMIND CONVERSATIONS from the BEST AND BRIGHTEST minds in business today!  Stimulating new ways of thinking and provoking inspired action among our attendees, our participants understand what it takes for minority-owned businesses to break through the barriers of growth. 
You will receive great concice content from our amazing line-up of speakers, delivered in a safer format under these unprecedented times. Curated to address the issues most relevant to today's business minds, our mission is to ensure that attendees leave with the tools, invaluable resources and a network of connections that will serve as catalysts for making them more effective as entrepreneurs, business owners and leaders.
Activate Your Strategic Action Plan, Expand Your Connections and Elevate Yourself and Your Business!  REGISTER TODAY!!


You Are Your Brand – SUCCESS Happens by the DECISIONS You Make and the ACTIONS You Take!
Join us for this POWERFUL EXPERIENCE and enjoy…
Practical Insights and Actionable Steps to Take Right Now, With Rapid Fire Speaker Sessions and Powerful Takeaways!

A Strategic Action Plan for Shortening Your Business Goal Setting and Planning Processes (due to rapidly changing times)

Informative, Educational, Engaging Conversations and Incredible Energy to Move you Forward with Inspired Action

An Opportunity to Connect and Mastermind with this Diverse Community of BusinessWomen and Entrepreneurs

A post-event BONUS CHECKLIST to Implement Speaker's Topic Tips of Proven Concepts and Growth Strategies
MAXIMIZE YOUR TIME & INVESTMENT – ARRIVE EARLY!
(For integrity and capacity, please register before the virtual door closes 24 hours prior to the event)
NETWORKING AFTER-PARTY:  To close out Hispanic Heritage Month.  We will be celebrating from 6-8pm
WE LOOK FORWARD TO SEEING YOU THERE!   SECURE YOUR SPOT TODAY!!  
GENERAL ADMISSION
Fuel-Up Networking Breakfast
Speaker Sessions & Panel Discussions
Roundtable Mastermind Lunch
Access to B2B Vendors
Networking After-Party

NOW is the time to INVEST IN YOU and the future of your business.  REGISTER TODAY!
*Each Attendee Will Receive a Post-Event BONUS CHECKLIST to Implement Speaker's Topic Tips of Proven Concepts and Growth Strategies.
Sponsorship and exhibiting opportunities available. Inquire at:  info@bizofwe.com or 646-397-5548