Find something special to gift yourself and/or your entrepreneur bestie this holiday season…
Looking for the perfect gift for an ambitious, smart, motivated woman on your list?  This week we are sharing our favorite gift ideas for Female Entrepreneurs and Power Women. Whether you get one of these items for yourself or your business bestie, these gifts will contribute to making the entrepreneurial journey more enjoyable!
For even MORE ideas and selections, make sure to come to our end of year annual Holiday event TODAY, DECEMBER 15TH starting at 5:30PM!! Together we'll enjoy complimentary cocktails and appetizers, music and live M.C., 15+ HOLIDAY MARKET VENDORS, an AUTHOR'S CORNER, raffles and giveaways, together with 20% off any Coco-Mat purchases!
Our Holiday Market Vendors are all WOMEN or MINORITY-OWNED BUSINESSES so please join us in supporting them this holiday season.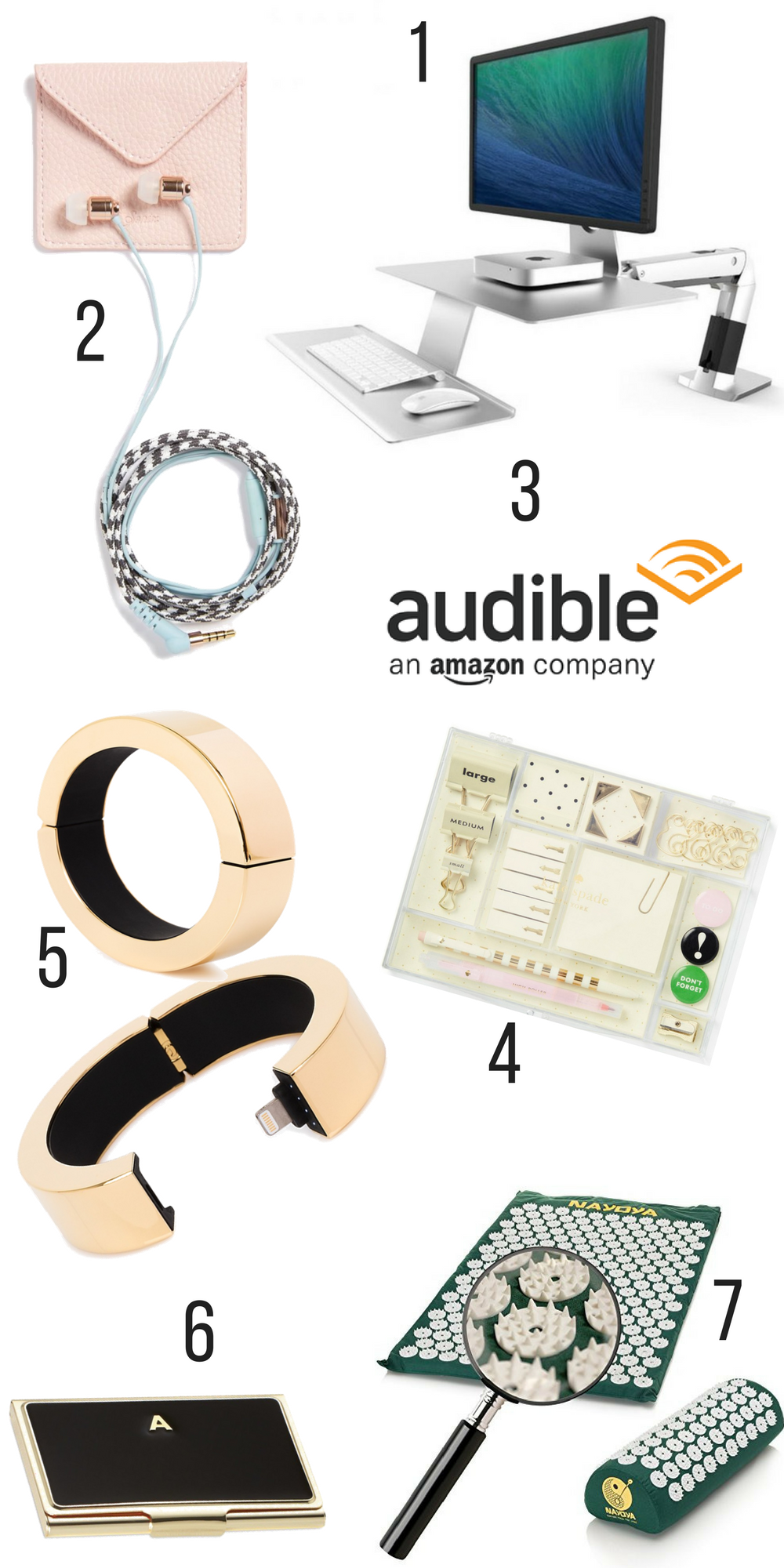 1. Standing Desk (Starting at $139)
Today's "techified" entrepreneurs often work long hours glued to their desks, and as we all know, that much time hunched over a keyboard is NOT healthy. Consider purchasing a standing desk or desk convertor for yourself or another busy entrepreneur in your life.
Need some leads? Our fave is UPLIFTDesk with desks starting at $449 and converters starting at $139.
2. Sonix 'Rose Buds' Earbuds ($50)
Say goodbye to tangled cords in your bag with this pair of lightweight earbuds complete with a long nylon cable that stays knot-free. With a built-in microphone with remote cable buttons for hands-free calling, you can easily talk to friends and family while you are on the go. Rose-gold tone plating beautifully complements the light blue cord, and a stylish envelope-flap pouch stores the headphones while not in use.
(HINT: Perfect to pair with Gift Idea #3 below.)
3. Audible Subscription (Starting at $14.95/month)
Give the gift of knowledge – even if it's to yourself! Continued learning is something every small business owner needs to invest in for success. Nowadays there are so many ways that technology makes this easier than ever before.
Many of us have full days and it's hard to find a moment to sit and read. That's why we love audible. Services like Audible make it easy to consume valuable content in the car on the way to the grocery store, jogging at the gym, or even while waiting to see the dentist.
4. Kate Spade Tackle Box ($38)
How about giving your desk a little refresh with this Kate Spade acrylic "tackle box" which includes binder clips, push pins, sticky notes, a pencil sharpener, a mechanical pencil, 3 magnets and a blush-toned highlighter. Whether keeping it stationary at your desk or using it to bring with you on the go, you'll be ready for success!
(HINT: This Gift Idea is perfect for event planners.)
5. QBracelet with iPhone Charger ($149)
We have all been there – at the most inopportune time, our phones reach low power and we can't call that all-important Uber to rescue us. Enter this attractive bangle bracelet that holds a quick charge. Not only is it stylish, it is practical, and something the busy woman won't want to leave home without.
6. One in a Million Initial Business Card Holder ($30)
Standout every time you reach to share your business card! This Kate Spade New York business card holder features a sleek black design with a gold trim and gold initial.
7. Nayoya Back and Neck Pain Relief – Acupressure Mat and Pillow Set ($39.97)
How does this Gift Idea work you asked? You simply lie or stand on the mat and the acupressure points relieve back pain, neck pain, cramps, stress, and headaches. It's the easiest massage ever and super relaxing!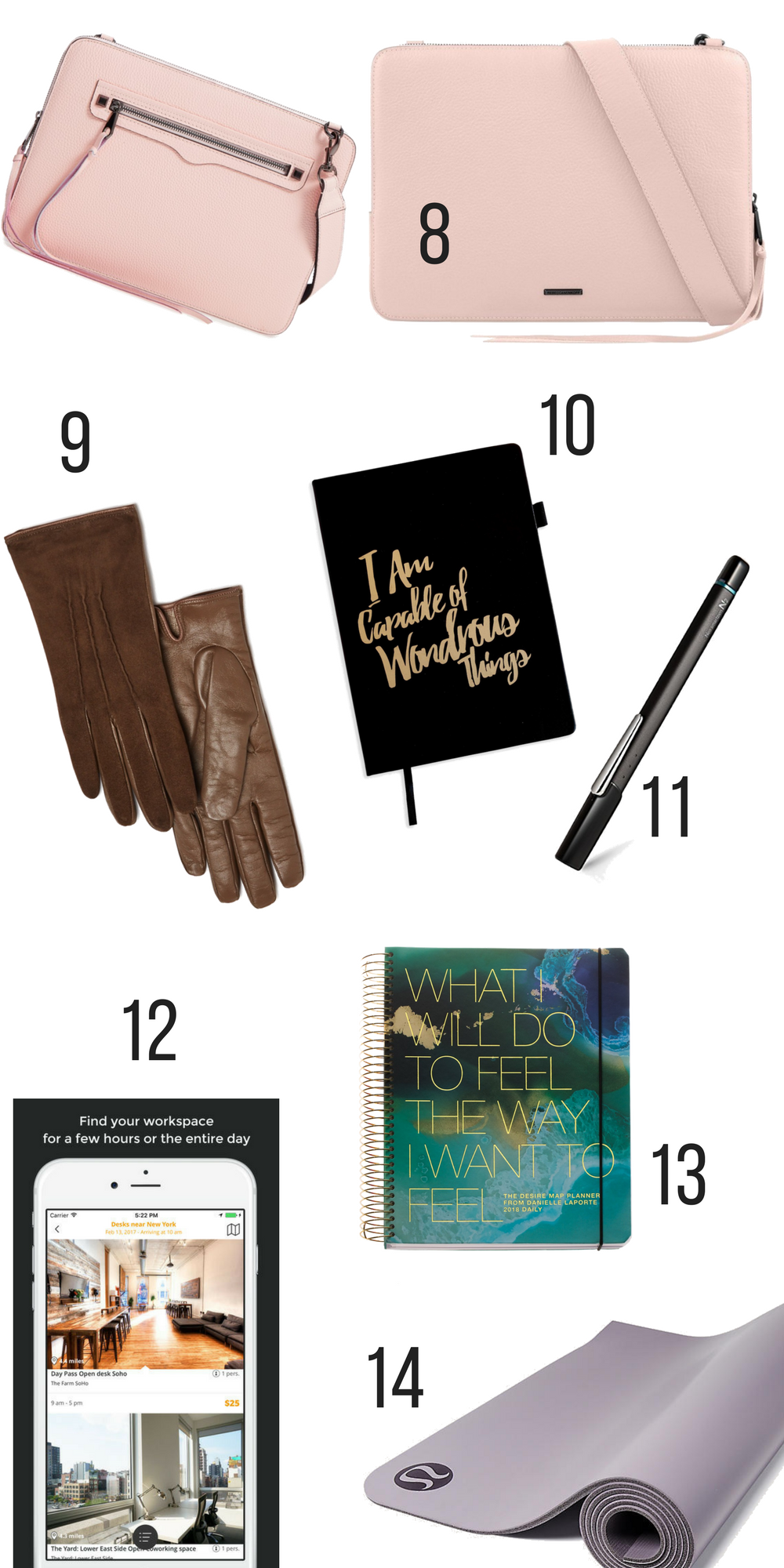 8. REBECCA MINKOFF Regan Laptop Sleeve with Strap ($75)
This gorgeous Rebecca Minkoff laptop sleeve is made from pebbled leather. With a zip front pocket, padded interior and optional shoulder strap, it's a stylish and practical gift for us ladies that are always carrying our laptops from meeting to meeting!
(HINT: Great for 13" and 15" laptops.)
9. Cashmere Lined Texting Gloves ($98)
Here's a conundrum: What do you do when its cold out and you need to answer your phone? Siri? Say "Ok Google"? No way!
These Cashmere Lined Texting Gloves from Bloomingdale's are the stylish and the perfect way to keep texting and emailing people while keeping your hands toasty warm in the winter.
10. PleaseNotes ($39.95)
This journal from PleaseNotes is a great gift for the entrepreneur or Power Woman in your life who loves to take notes. Hopping from a meeting, jotting down a jolt of inspiration or chronicling an interesting adventure, this high-quality journal includes positive affirmations on each page to keep you motivated to pursue your dreams.
Other fun features include fill-in-the-blank activity sheets and scheduling categories to help women vision (and create) their best life on the go.
11. Neo Smartpen N2 (Titan Black) for IOS and Android Smartphones and Tablets ($159)
Ok this one had us drooling! The Neo Smartpen will make any entrepreneurs' life a little easier. This digital pen records and syncs all your handwritten notes directly to your computer. It gets better, it can also record audio that coincides with your writing
12. Croissant (Starting at $39/month)
Give the gift of productivity!
Croissant is perfect for ladies who are always on the go. It's an app that gives you instant access to the hottest co-working spaces around the world in cities like New York, London, and Los Angeles. Gifting a month of membership means she'll be able to focus on her next ambitious projects, instead of worrying about finding a seat at the local coffee shop!
13. The Desire Map Planner from Danielle LaPorte 2018 ($34)
The DAILY planner for the highly scheduled, detailed thinkers, and awesome "A-types" who love keeping track of the big and little things. This lush planner is more than a daily organizer (because you are more than your to-do list.) This planning system incorporates your inner and outer worlds; your gratitude and your goals; you're Core Desired Feelings into your daily regime.
When you're clear on how you most want to feel, decisions happen more easily. You'll know when to say "No, thank you" and when to say "Hell, YES!" And then you'll put it in writing. This planner helps you connect with your desires on a daily basis, and then plan to bring them to fruition in small ways, and on the big days.
14. The Reversible Mat 5mm by Lululemon ($68)
The extra cushioning in this Lululemon yoga mat is perfect for floor poses. It's super durable and rolls up small so you can carry it easily. Your yogi BFF will love you forever!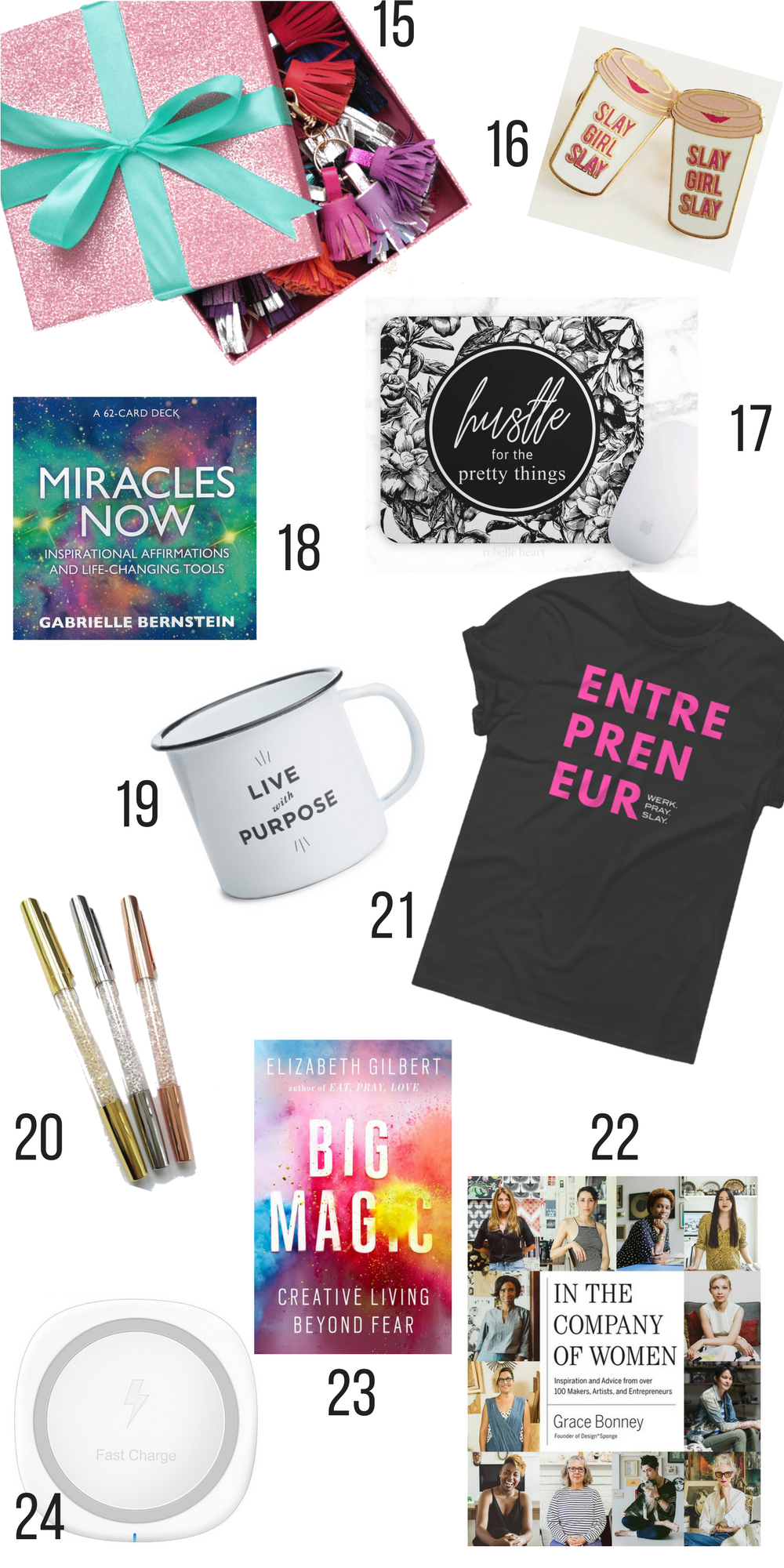 15. Genuine Leather Mini Tassel Keychain ($18)
This tassel charm is perfect for many reasons – you can use it as a keychain, as zipper charm or just to brighten up other of your accessories. Makes a perfect little gift – it's a small but fabulous!
16. "Slay Girl Slay" Coffee Cup Lapel Pin ($10)
This "Slay Girl Slay" lapel pin is a great accessory for all you coffee drinkers!  Wear it on your sweater, jacket, shirt collar, tote bag, or anywhere that will remind you of your superpower.
Go on and buy it, it will make you smile every time you wear it!
17. #LadyBoss Mouse Pad ($15)
Motivate yourself every day to 'Hustle for the Pretty Things'. Mousepads are a quick way to make your surroundings more beautiful and personal. Perfect for your home, office, college dorm, or even as a gift.
Features 'Hustle for the Pretty Things' quote with a black and white floral background.
18. Miracles Now: Inspirational Affirmations and Life-Changing Card Deck ($15.45)
This awesome card deck offers 62 inspirational affirmations and tools from Gabrielle Bernstein's book Miracles Now! It's perfect for a daily dose of empowering guidance for you or any other entrepreneur or Power Woman out in the world doing their thang every day!
19. Live With Purpose Mug ($16) (a Gift the Gives Back)
In a world where the hustle and daily grind never seems to stop, this mug serves as a kind reminder to live each of your days with purpose and to remember that you have the power to make a difference.
This mug, sourced from The Created Co., is beautifully designed and helps fund clean water projects in developing nations through charity: water.
20. Metallic Crystal Gel Pens ($7)
Ready to leave your mark? You'll love using these heavy-weight Metallic Crystal Pens to mark off every goal off your list from our friends at Modern Paper Trail!
This is a heavy-weight quality pen, don't be fooled by the other imitations! This pen makes the ultimate gift for your favorite girl to remind her that she is worth rubies and pearls… but with pens this pretty, we're sure you'd want to keep one for yourself!
21. SEO Mindset "Werk. Pray. Slay." Tee ($24)
CEO Mindset Tees are custom designed for the ambitious and driven woman with a passion for fulfilling her dreams and in pursuit of financial independence.
Each t-shirt is embossed with a sassy and inspirational quotable designed to embody ambition, passion, and support for female entrepreneurship.
22. In the Company of Women: Inspiration and Advice from over 100 Makers, Artists, and Entrepreneurs Hardcover ($21)
Over 100 exceptional and influential women describe how they embraced their creative spirit, overcame adversity, and sparked a global movement of entrepreneurship. Media titans and ceramicists, hoteliers and tattoo artists, comedians, and architects—taken together, these profiles paint a beautiful picture of what happens when we pursue our passions and dreams.
A motivational gift for any woman looking to succeed in life!
23. Big Magic: Creative Living Beyond Fear ($10)
Readers of all ages and walks of life have drawn inspiration and empowerment from Elizabeth Gilbert's books for years. Now this beloved author digs deep into her own generative process to share her wisdom and unique perspective about creativity.
Balancing between soulful spirituality and cheerful pragmatism, Gilbert encourages us to uncover the "strange jewels" that are hidden within each of us. Whether we are looking to write a book, make art, find new ways to address challenges in our work,  embark on a dream long deferred, or simply infuse our everyday lives with more mindfulness and passion, Big Magic cracks open a world of wonder and joy.
24. Pansonite QI Wireless Charger ($25)
You don't have to be a "techie" to see the value in this gift. Even just three electronic devices can become a mess. Help organize your or your entrepreneur bestie's gadgets by gifting this static place for all devices to be plugged in to.
With this stylish accessory, you can charge your compatible smartphone and other devices. No need to plug in when it's time to power up, just lay your device on the charging pad. When the LED indicator lights up, your device is charging optimally.