EXPERIENCE THE 7TH ANNUAL WELLNESS RETREAT in 2024!
A ONE-OF-A-KIND OPPORTUNITY FOR PERSONAL AND PROFESSIONAL SUCCESS; TO REST, REFRESH AND RENEW!
In this 5-day/4-night transformational experience, we use actionable education, inspiring content, intimate community and powerful takeways to rejuvenate your spirit, spark momentum and surround you with like-minded women who share your goals and aspirations.
EXPLORE A NEW YOU – NURTURE, PAMPER AND LOVE YOURSELF.  Discover what matters most to you while setting boundaries with intention and purpose to support you in building a business you're passionate about and living an authentic life you love.
This is your opportunity to eliminate forced responsibilities and obligations that leave you feeling disconnected, discouraged and drained.  This Retreat whisks you away from all that and transports you to a land of inspirational beauty, where you'll leave re-energized!
INVESTMENT: $3,300 (Paid in Full) |  $3,500 (Installments)   Registration Deadline DECEMBER 31st 2023
Single Occupancy Accommodations
All Meals (breakfast, lunch & dinner)
Transportation to and from Airport
Retreat Workshops and Activities
A Swag Bag Full of Self-care Gifts


NURTURE NOT ONLY YOUR BUSINESS BUT YOUR SOUL TOO!
Treat yourself to our 4-Night/5-day Wellness Retreat on
MAY 1 – MAY 5, 2024
You will learn to implement strategies with intent and purpose to support you in building a business you're passionate about and living an authentic life. During this weekend you will be guided by a team of inspiring and encouraging experts and influencers, meet other like-minded and build lasting friendships for a remarkable and unforgettable experience.
Through our agenda of powerful experiential activities and interactive conversations, just the right synergy is created to allow you to reconnect with your inner wisdom and release any constraints on your prosperity and complete happiness.
Although this retreat will include plenty of time and space for relaxation and/or island activity, each of you will simultaneously be embarking on an incredibly powerful process of growth and rejuvenation.

Start your day with MORNING YOGA OR MEDITATION CLASSES that challenge and relax you (assuming you want to—if you'd rather sleep in, we understand, and we trust that starting the day energized will set the tone for the rest of your day).

Harness your morning clarity and focus, to immerse yourself in the EDUCATIONAL WORKSHOPS AND INTERACTIVE MASTERMINDS.

Develop completely CUSTOMIZED STRATEGIES, STRUCTURES AND GAME PLANS thanks to the combined brilliance of our expert speakers and mentors, who are excited to share tools and tips to see you succeed in all aspects of your life.

Have an intimate atmosphere to not only to learn, but also to DRESS UP AND CELEBRATE YOUR SUCCESSES AND BREAKTHROUGHS with like-minded entrepreneurial women.

Spend your days and nights in ADULT-ONLY ALL-INCLUSIVE ACCOMMODATIONS with everything you need at your fingertips.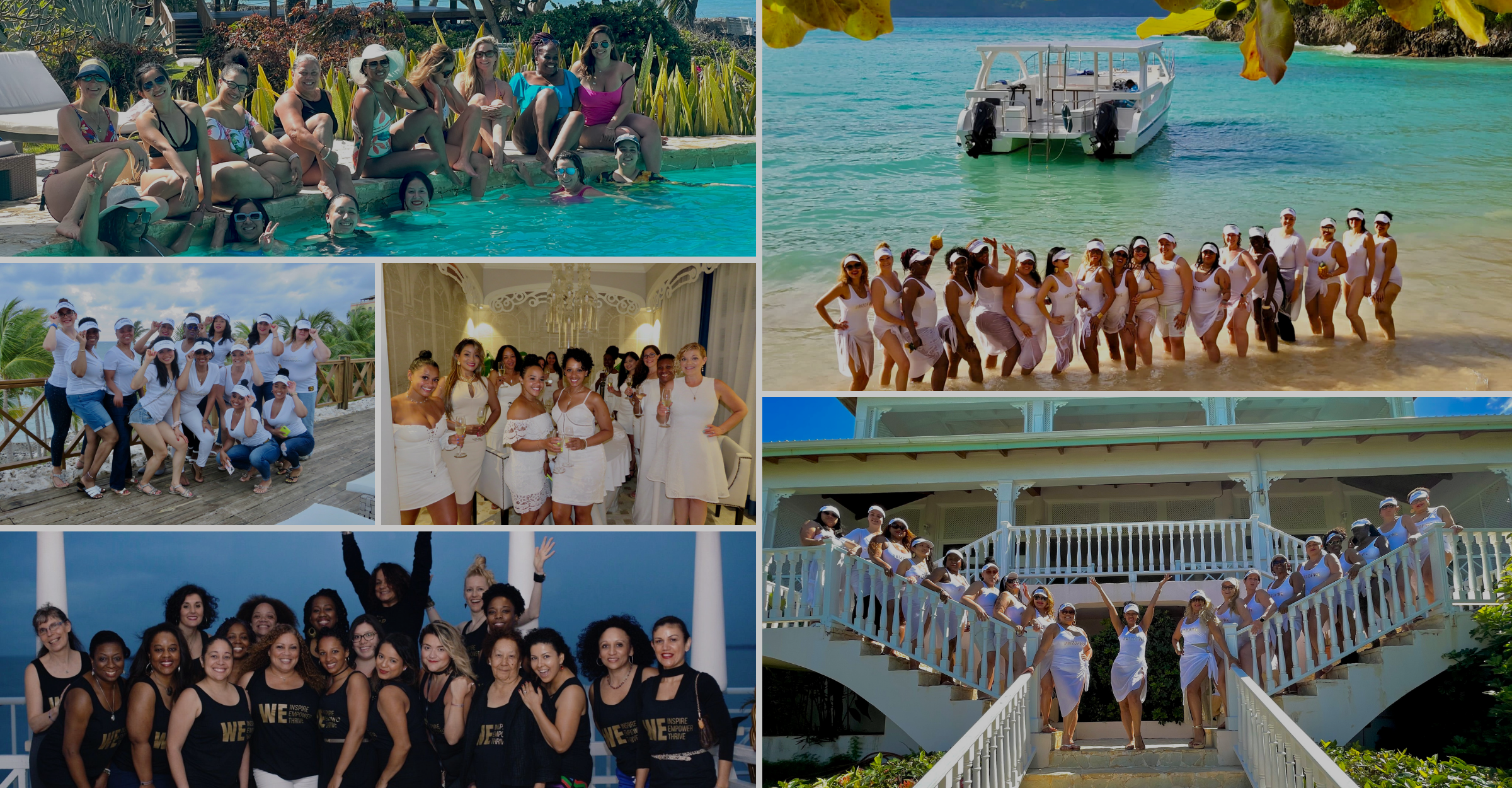 You'll arrive in the Dominican Republic on WEDNESDAY and be met at the airport by our shuttle driver.  Depending on when your flight arrives, you'll be grouped together for our shuttle transportation.  Once you arrive at the property, you'll be greeted by our team and provided with the final agenda for the weekend as well as some surprise goodies.  They'll be time to unpack and freshen up before we meet for our Welcome Cocktail Reception and Dinner at 7:00PM.  This evening we will connect with one another and set our intentions for the weekend. We will tuck away into our cozy beds early for a restful first night after a long travel day.
Our Retreat programming is on THURSDAY and FRIDAY.   We start the day off with a morning meditation and yoga session, followed by a scrumptious group breakfast at 10am, before me begin our powerful educational workshops, and masterclass/ mastermind sessions through about 1pm.  We will enjoy a delicious group lunch and free afternoons for fun in the sun and/or personal "Me" time.  We come together again early evening where you'll hear from our panel speakers for an interactive Mastermind discussion.  Each night, we'll toast to another day together over a delicious group meal and just meet for casual conversations.
SATURDAY will be a FREE day and left intentionally unstructured so that we can enjoy some self-care "me" time, fun in the sun, and/ or take advantage of your bonus session with our expert speakers and facilitators!  Of course, there will be special activities sprinkled throughout the day for continuous camaraderie.
SUNDAY will be our last day together in paradise. We'll gather one more time and come together at our Farewell Breakfast before we say our goodbyes, and be grouped together for our transportation shuttle to the airport.

EVERYTHING — Arrive on Wednesday and we'll take care of the rest! We have your accommodations, food and drink and all workshop content and materials, special events and activities covered. Simply put, the only thing not included is your airfare (and any excursions outside of our planned agenda)… 
Accommodations at a premier location and property for ourselves

All meals and drinks from arrival at the property to departure

Transportation to/from the airport to the property

A private welcome cocktail party and dinner providing the opportunity to connect with speakers, team and other guests

A fabulous swag bag full of gifts and self-care goodies, because you invested in you and so will we!

An amazing line-up of workshops and panel discussions designed to supercharge your personal and professional growth

15-minute personal mentor sessions with any or all of the speakers for personalized feedback and support
In advance of arriving at Wellness Mastermind Retreat you'll be added to our private WhatsApp group chat where you'll be able to chat with other women attending the retreat guaraneeing new friends even before you arrive. It's a wonderful place to connect, ask questions, and get support for your business!
Even after we're long done, you will still have cheerleaders in your corner! You'll gain access to the exclusive community and sisterhood. 

THIS IS NOT JUST AN EVENT . . .  IT'S AN ENTIRE EXPERIENCE!
While this Retreat is geared towards successful and aspiring women entrepreneurs and business owners, executives and career professionals… anyone who wants to take the leap towards a deeply satisfying lifestyle, where great success, fun adventures and a balanced lifestyle goes hand-in-hand will greatly benefit from attending!
WHO ATTENDS? 
Seasoned Business Owners who want to scale and catapult their business to its greatest potential

Innovative Entrepreneurs leading their industry and ready to expand their vision and advance others

Emerging Entrepreneurs managing a career and side hustle, looking to refocus, restart and rebrand

Career professionals looking to improve work life balance for personal and professional success

Busy moms and homemakers needing to recharge, and feel inspired, motivated and empowered
The Wellness Retreat is open to any busy professional woman seeking work life balance, where late night bedtimes happen way too often and self-care is not prioritized. She's looking to expand her personal network by connecting with other quality women, who are also ready to experience a quantum leap, towards living their ideal lives.
You will walk away with a community of lifelong friends and a sisterhood who wholeheartedly believe in you and are cheering you on

You will have clarity on how to move your life and business forward in a way that feels true to you and is full of success and balance

You will feel energized, refreshed and motivated to dream big and apply everything that you learned in your life and in your business.

You will receive actionable tips, implementation strategies, daily habits, and the tools and resources to use in all aspects of your life

You will have the investment of the time you took to work intentionally on your business instead of always working in your business
Using the information, encouragement and community from the Retreat, you will go out to build your successful business while staying devoted to yourself.
Let's Create A MEMORABLE EXPERIENCE That Inspires Positive Transformation and Growth!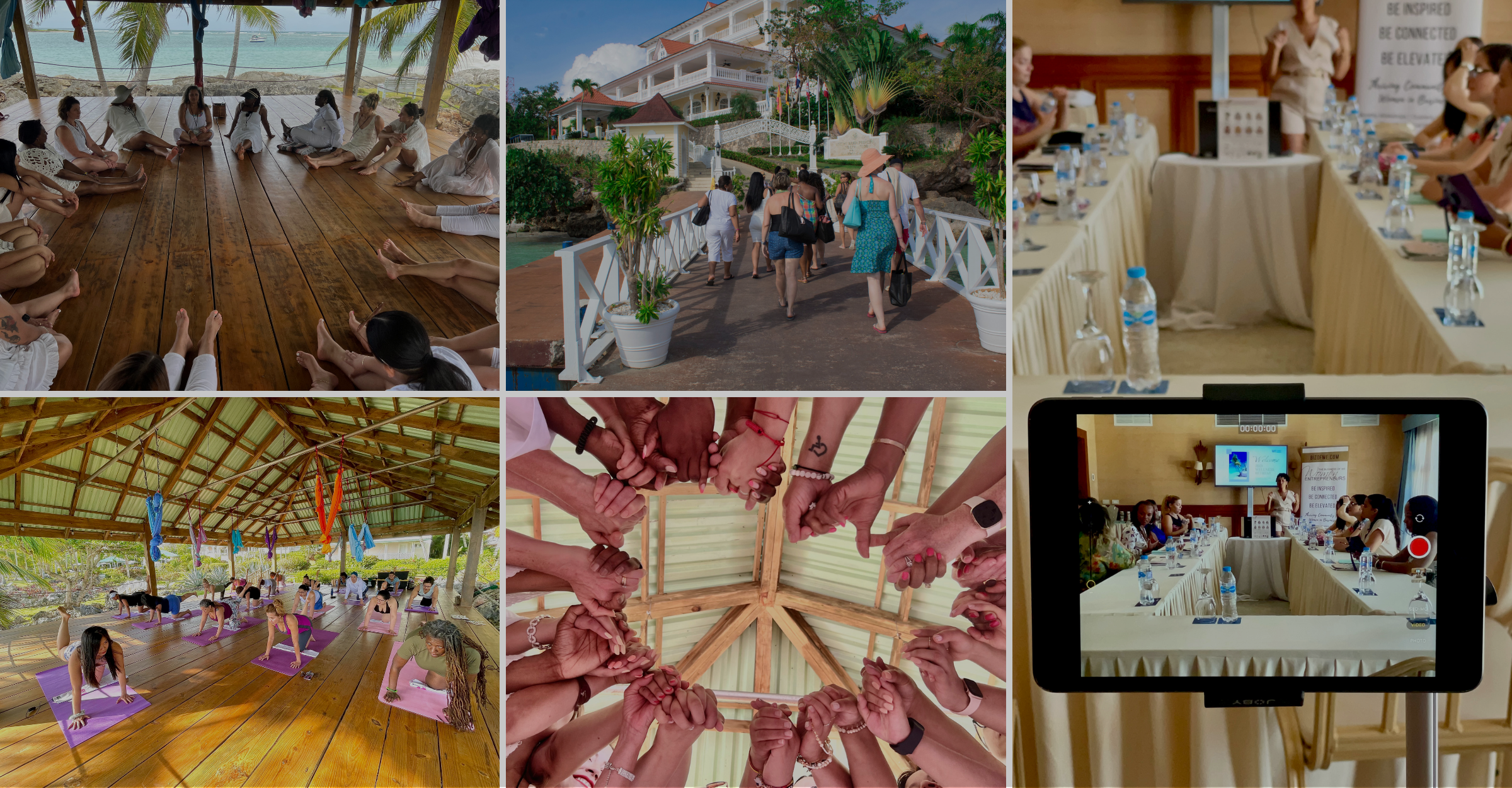 The best investment is the one that you make in yourself and in your personal and professional growth. Whether your intention is to grow your business or to simply have a relaxing, rejuvenating weekend surrounded by purpose-driven women, it is all part of self-discovery. Taking the time to step away from your busy schedules allows you to set intentions and continuously grow and evolve.
We always know what's right for us, yet we struggle with creating the space for self-care, reflection, and transformation.  Sometimes we just need a bit of encouragement and to give ourselves permission to splurge and invest in ourselves to live life in complete balance!
A $700 deposit is required to reserve your spot, with monthly payments thereafter.
The registration deadline is DECEMBER 31st 2023.  Payment in full must be made after that time and based on availability. 

PLEASE NOTE: Retreat investment is ONLY for the specified dates… Any extended stay would be your responsibility for both accommodations and airport transfers.
PAYMENT PLANS
We understand that payment in full can be difficult for many people.  We offer a 4-month installment payment plan option for your convenience. There are no additional fees for utilizing the payment plan.  Although, the larger room category is secured for those that pay in full prior to September 30th and/or based on availability.
By choosing a payment plan you agree to pay in full by DECEMBER 31st, 2023.   A $500.00 deposit will be required to reserve your spot, along with completing our registration form.   You may make payments towards your total anytime before DECEMBER 31st via Zelle to info@bizofwe.com  You'll receive monthly payment reminders.
*A deposit is required to reserve your spot (non-refundable, but transferable).  
PAYMENT SCHEDULE:
$700 deposit prior to August 31st, 2023 – with monthly payments through December 31st
50% Deposit by October 31st – with the balance due by December 31st
*ALL FINAL payments due by DECEMBER 31st
CANCELLATION POLICY?
Deposit is non-refundable but transferable.  We understand emergencies happen and plans can change…  If you are NOT able to travel, and need to cancel your booking prior to March 1st 2024, you may transfer your registration to another participant.  Please note, securing another traveler and any monetary transactions would be YOUR RESPONSIBILITY!  If we have a wait-list, we can arrange to transfer your registration on our end, and will notify you at that time.

Have questions? We have answers!  Read below and if they still aren't answered, let's schedule a time to chat and make sure this event is the right fit for you.
DO I HAVE TO STAY ON THE PROPERTY?
Yes, the full experience includes accommodations, all your meals, workshops and activities, and cannot be removed. We don't want you to miss out on all the transformation, connection, camaraderie and sisterhood.
WHAT IF I HAVE A DIETARY NEED?
Just let us know in advance when registering and we will be happy to accommodate you!  Our host venue is able to accommodate most common food allergies or dietary preferences.
WHAT SHOULD I WEAR, PACK, BRING?
Pack for a Caribbean vacation!  Or whatever fits your personality best…  You're welcome to pack business casual attire for our workshops and masterminds during the day.  Make sure to include athletic shoes and comfy yoga and/or active wear for our early morning meditation sessions and yoga classes.
You will also want to pack cocktail dresses for the beautiful tropical evenings.  Specifically our 'Welcome Dinner' on Wednesday night, but we recommend pairing them with sandals, ballet flats or other cute and comfy shoes.  All too often, we don't have the time or reason to get dressed up. This will be a fun opportunity to enjoy girls' night!
Finally, for our "Beach Journey" event on Saturday evening, we invite you to wear all white attire as this is an intricate part of the experience.   Lastly, we will be taking professional group pictures throughout the entire weekend.
ARE ALL WORKSHOPS AND ACTIVITIES MANDATORY?
While retreat workshops are optional and not mandatory, we encourage you to get the most of your time and your investment.   We truly hope you take this opportunity to learn, grow, and experience the breakthroughs you need to take your life and business to the next level.
CAN I ROOM WITH SOMEONE?
You have made the decision to invest in yourself, we encourage you to consider staying on your own… The savings for double occupancy is minimal, the value of your personal 'Me Time' is priceless!  We have blocked off an entire property for ourselves to ensure we enjoy quality time and time to decompress.   If you are traveling with a friend, family or colleague and prefer to room together, please email: info@bizofwe.com to arrange your double occupancy room and your payments.
DO I NEED TO BRING A LAPTOP?
Only if you wish… We recommend you take this time to 'disconnect', unplug and turn your email 'Out of Office'  so you can take advantage of all the amazing opportunities to learn and connect!
We are excited about all the face-to-face time you're going to have with new friends!  The hotel offers complimentary Wi-Fi throughout the entire property in case you need to check a few emails.
WHAT IF I NEED TO CANCEL LAST MINUTE?
We understand emergencies happen and plans can change… Deposit is non-refundable but transferable.  If you are NOT able to travel, and need to cancel your booking prior to March 1st 2024, you may transfer your registration to another participant.  Please note, securing another traveler and any monetary transactions would be YOUR RESPONSIBILITY!  If we have a wait-list, we can arrange to transfer your registration on our end, and will notify you at the time of cancelation.
FOR ANY ADDITIONAL QUESTIONS, PLEASE CONTACT INFO@BIZOFWE.COM
Are You READY You Step Into the BEST VERSION of Yourself?

GIVE YOURSELF PERMISSION TO BE GREAT AND JOIN US!